WPM Real Estate Management had a fantastic night at the 2018 Maryland Multi-Housing Association (MMHA) Star Awards walking away with 13 total awards. For the second consecutive year, WPM has been named Property Management Company of the Year, having achieved that honor in four out of the last five years. In addition to being named Property Management Company of the Year, WPM-managed communities and WPM associates were honored for their outstanding professionalism and commitment to excellence. Highlights include:
1st Place 2018 Property Management Company of the Year – WPM Real Estate Management
1st Place 2018 Super Star Award – Donna Rolnick, Regional Property Manager
1st Place 2018 Property Manager of the Year – Chad Waskey, The Riverside Apartments
1st Place 2018 Service Supervisor of the Year – John Mowrey, 520 Park & 500 Park
1st Place Stellar Gold Community – Yorkewood Apartments
1st Place Stellar Gold Community – The Townhomes at River's Crossing
1st Place Stellar Gold Community – 500 Park
1st Place Stellar Gold Community – 1901 South Charles
Leonard Frenkil Jr., President of Multifamily Real Estate at WPM said, "These awards recognize an amazing team of dedicated management, leasing, maintenance and support professionals who are committed to our residents, clients and, equally importantly, to each other. We couldn't be prouder of our communities and associates."
Awarded annually since 1997, the MMHA Star Awards recognize and honor members who exhibit the most outstanding and innovative properties and professionals in the Maryland multi-housing industry. Nominations are accepted from among the organization's more than 200 associate members and nominees are judged by a committee of third-party professionals, not affiliated with any of the management companies.
"We are honored to have received such a prestigious award for the second straight year and so many honors at the 2018 MMHA Star Awards," notes WPM President, Jim Dahlgren. "We are committed to providing great places for people to live and work. It is this commitment to a belief that management matters, coupled with our experienced owner's perspective, that allows us to deliver a level of performance that adds value for our residents, commercial tenants and investment clients."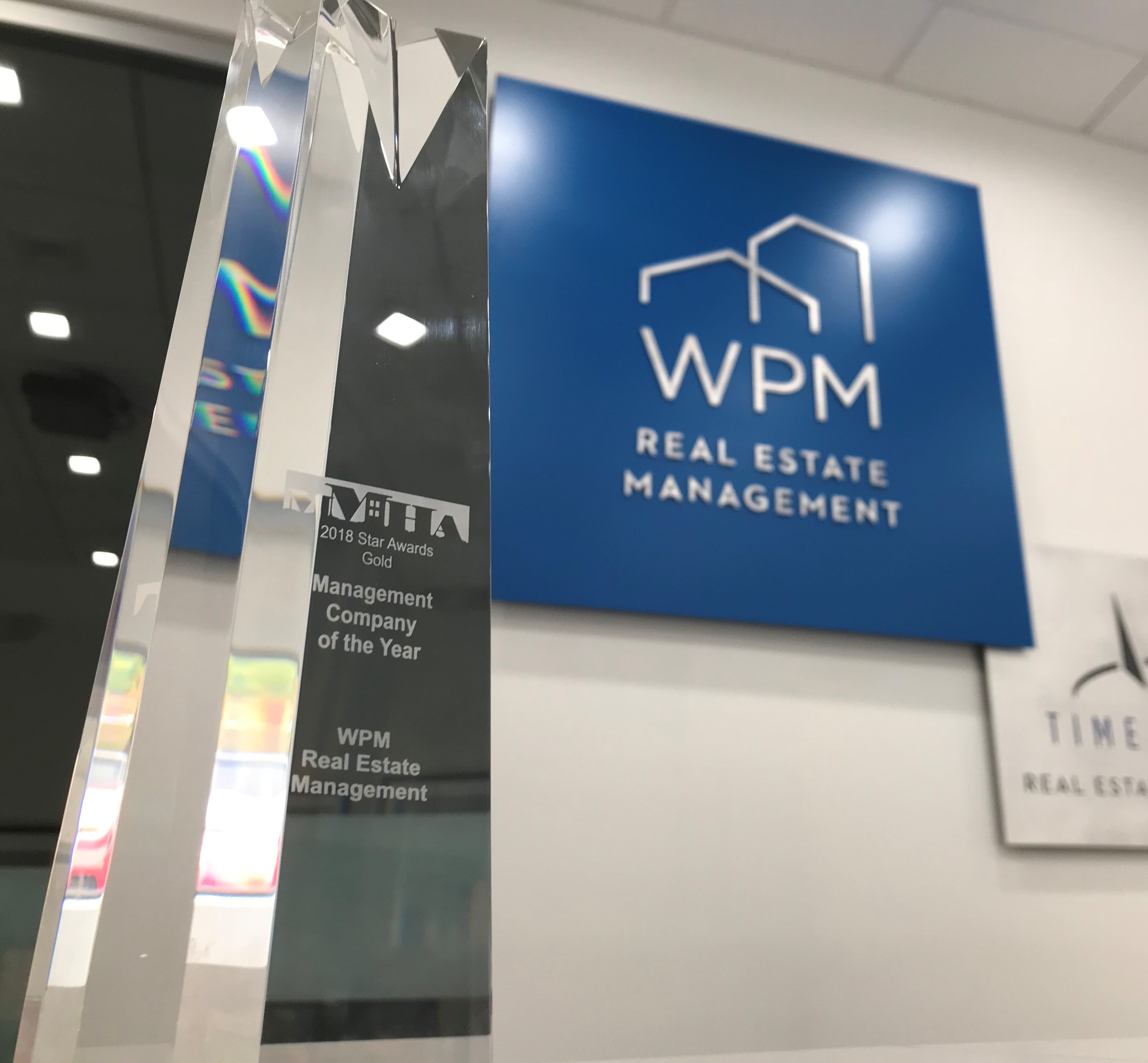 WPM Real Estate Management is an Accredited Management Organization® (AMO®) that provides property management for over 23,000 homes and 40,000 people in the Baltimore/Washington Metropolitan area. The company's primary focus is residential: multifamily, condominium, senior housing, student housing, and homeowner association communities. In addition, it has an extensive managed portfolio of commercial, industrial, and retail properties. WPM has been recognized as one of Baltimore's Top Workplaces by The Baltimore Sun, ranking among the top 5 large employers for seven years running. The company employs approximately 500 associates across more than 150 properties.